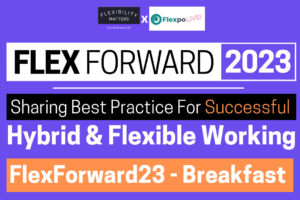 On February 22nd, Flexibility Matters hosted the FlexForward23 Breakfast Briefing, at Flexpo Live. Our keynote speaker David Blackburn, Head of People at the FSCS, gave a summary of his top takeaways from Flexpo, which will follow.
Our Peer Mentors; chosen because their businesses are innovative and progressive in their approach to making flexible working work. David and the FSCS – 40% in the office rule and 'Your Day Your Way', Hanna Smith  at Paddle with 'Digital First Culture', Carlene Jackson – Cloud9 Insight and the '9-day fortnight', Pam Loch, Loch Associates – sharing her wide and varied knowledge of supporting and guiding businesses through complex legal and HR problems, Carol Frost – Metro Bank, passionate in identifying and developing diverse talent at every level  Jane van Zyl from Working Families, supporting businesses with family flexible working practice. 
Our specialists lead our breakout groups and discussed the challenges to flexible and hybrid working, senior management, middle management, tech, Gen Z and millennials to crystallise how and where best practice is being realised and more importantly the challenges. 
Emerging Themes from our Peer Group Sessions
Making Flex Work
Post pandemic companies are still building trust and striving for transparency in managing expectations, flexible working is still very much a work in progress, we are all still learning, there is no one size fits all. The younger generation – Gen Z/Millennials have huge expectations for their overall package and assume that flexible working is a given when joining a company. They are interested in a company's Corporate Social Responsibility and what impact that is having and whether it is acted upon. 
There is still so much ambiguity around flexible working, staff and managers need rules, boundaries and guidelines to ensure fairness, overwhelmingly the worry continues around consistency of offering flex across a business. Flexible working perceptions internally do differ, companies need to clarify and deal with differences upfront and openly. One size does not fit all, but an open approach and the willingness to test and try needs to be demonstrated. 
Some companies have become intransigent– wanting staff back to the office full time, maybe it's easier to revert to old habits, particularly with cost of living and recession looming. Forward thinking companies are re-energising the office as a place for collaboration, team bonding and social interaction, not for sitting on Teams/Zoom. The culture of the organisation is set from the top, if the SMT model change, it will filter down. One of our peers mentioned that C Suite, need to understand that change is not scary – change is not loss, then this fresh outlook will permeate through the company's culture. 
Giving Managers the Tools
Companies need to Support and upskill managers to trust remote teams, agreeing collaborative team time in the office, how often to be in the office, core hours, forms of communication and providing the right tools to work remotely. Change HR's role, so they are more involved with middle management issues, instead of mangers dealing with situations on their own and only involving HR at the last minute. Create Action Plans to help managers manage, normalise conversations that people would otherwise feel uncomfortable with.  
Middle Managers are squeezed from both sides. Companies reversing their stance on flexible/remote working is putting pressure on middle managers to get people back in the office full-time. These managers are pressurised by team members who don't want to be back, but don't have the tools and the language to help them navigate these situations, otherwise talented individuals will leave. 
Companies using staff surveys and involving the staff in fundamental changes are seeing positive employee engagement – try, test and modify. Companies are also using remote working psychometric tests to ascertain who works effectively from home, to help tailor flexible working options, so long as it's not a 'big brother tool' to test productivity. 
Staff retention – younger staff members are moving on faster. They are gaining experience from their current employer and moving on much quicker to the next stage in their career, companies need to find a way to adapt to retain younger talent.  
Community and connection – create a cultural handbook, which isn't just about policies and company ethos. It creates a community, so everyone feels connected with a common goal, understanding why they do what they do. All team members need to be involved in creating the handbook and it should be available online and in hard copy.  
Employers need to consider the whole person – when first employing and throughout the working relationship. The company is employing the whole person/their whole life – not just the work face they present. 
Diversity & Inclusion
We all need to consider bias, gender equality and neurodiversity, we are going through a c-change, but it's always good to challenge the norm and not to always look through the gender equality lens, this can sometimes be a barrier. Whist trialling flexible work, companies are utilising pilots, as a safe space for teams to try new and different approaches, allowing people to feel comfortable in speaking their mind.  
Employers are acknowledging that we are all a collection of different entities – we may be a customer, but we are also a person, we may be an employee, but we are also a person. We need to take this into consideration when we interact with staff – the human experience. 
Challenge work environments, encourage staff to 'start the debate – be the catalyst for change'. There is nothing more rewarding than seeing the issue they raised – being resolved. If you're leaving a company – what is the one thing you would have wanted to be in place when you started – try and achieve that before you go! 
In summary 
Be brave and challenge – don't step back into tradition, embrace the opportunity – a new way of working, which allows for a more human approach

 

Senior managers open to change – look at the culture of your business – is it fit for purpose

 

Involve employees in the conversation – particularly the younger generation so you don't lose them

 

Upskill middle managers or lose them to burnout and dissatisfaction

 

Create flexible working guidelines to ensure fairness and test and trial across a business

 

Embrace flexibility as a way of celebrating diversity and encouraging a more inclusive culture

 

What's next not what now?

 

How do we embed it and make it grow?

 
We would love to hear your observations – please email emma@flexmatters.co.uk and let's have a chat. 
See you at FlexForward in Brighton on June 23
rd
.