10/03/20
WE'VE MADE IT OUR BUSINESS TO WORK FLEXIBLY. HERE'S HOW. MEET HANNAH…..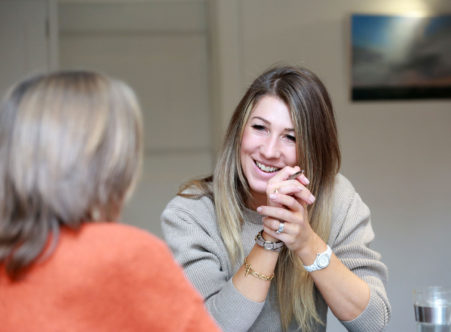 Unsure about whether hiring flexibly could benefit your business or want to work flexibly yourself?
Let us tell you about Hannah Bolding, our wonderfully focussed and experienced Flexibility Matters Recruitment Manager who made it HER business to become flexible.
Always a recruiter, Hannah worked as a Senior Consultant for a company hiring specialist engineers. She found, however, that after having her daughter the pressures of high monthly targets and an inflexible daily commute were not a combination that worked for her and her new family.
Following a few years of working for herself, Hannah joined Emma at Flexibility Matters in 2015 and now works 15 hours per week across 3 days. This may mean she is in a co-working space with the team one day and from her, what she calls 'soft office' the rest. She loves that no one day is the same, but equally that she can walk her daughter to school or do a class in the gym.
Hannah, believes that if you get the right balance in your job you give the most, "Everything evolves, and we need to evolve too. The old 9-5 is out-dated and doesn't work in our modern society. Successful businesses will be the ones who embrace working flexibly and as result attract the best talent. Flexible working isn't the future, it's the now".
If you want to find out more about Hannah's experiences in hiring flexibly or her journey to becoming a flexible worker, email her at Hannah@flexmatters.co.uk. Or, if you want to talk to any of the team about the flexible roles we have currently or how we work with businesses to secure flexible professionals, contact us here: https://www.flexibilitymatters.co.uk/contact/