30/05/19
Flexibility Matters second discussion group on Best Practice in Flexible Working – Crawley July 4th 9.30-12.30pm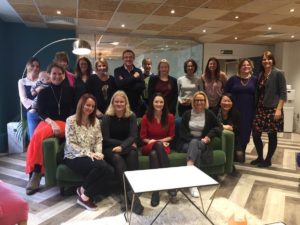 These are the Brighton pioneers of the first Sussex discussion group on best practice in Flexible Working. We discussed the implementation of flexible working from the perspective of the SMT to recruitment and everything in between including impact and benefits. The intent is to provide a ten point implementation guide of best practice which companies embarking on the flexible journey can use.
Our second group will be based in Crawley and will be hosted by B&CE courtesy of Zoe Wright and chaired by Flexibility Matters and training partner Ursula Tavender of Mumbelievable
To date, we are looking forward to welcoming: B&CE, ASB Law, GDB, PVL, Welland Medical, Nestle, Reigate and Banstead Council, Canon, Thales, Quantum, Platinum and the Crawley Post with a number still to confirm
If you and your company would like to join us please do mail emma@flexmatters.co.uk. Spaces are limited.