30/05/19
Flexibility Matters Discussion Groups on Best Practice in Flexible Working – Brighton, 1 March 2019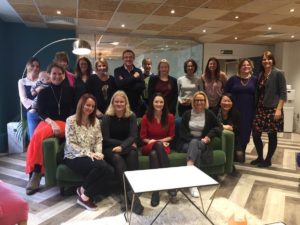 These are the Brighton pioneers of the first Sussex discussion group on best practice in Flexible Working. We discussed the implementation of flexible working from the perspective of the SMT to recruitment and everything in between including impact and benefits. The intent is to provide a ten point implementation guide of best practice which companies embarking on the flexible journey can use.
DISCUSSION ON BEST PRACTICE IN FLEXIBLE WORKING – BRIGHTON, 1ST MARCH, 2019
SUMMARY OF DISCUSSIONS
 MAIN OBJECTIVE
To reveal key points and peer learnings around the challenges and benefits of flexible working implementation in order to develop a 10-point flexible working implementation plan and best practice guidelines.
INTRODUCTION
All attendees (see list attached) have experience within their varying size organisations of flexible working and/or recruiting for flexible working, mainly within individual departments. All recognise the benefits, but, at the same time are aware of the challenges in varying degrees that are affecting full take-up. Guidance from each other and experts in the industry on the best way to implement flexible working practices is something that would be very well received.
OUR SURVEY SAYS
Survey results from the 14 Sussex based business attendees of the roundtable (survey results deck attached) revealed the following points of discussion, summarised below.  The survey was carried out by Cat Harris, Learning Business Partner, First Central and presented alongside national statistics gathered by Winnie Man, People Manager, Propellernet.
All surveyed offered flexible working options to their employees in varying forms.
'Part-Time', 'Working from Home' and 'Flexible Hours' are the options offered by the majority surveyed (respectively: 79%, 79% and 72%), and this trend is mirrored within national statistics sourced from Timewise, the CIPD Flexible Working Megatrends report and ONS.
'Core Hours' and 'Job Shares' are options that are offered by the least surveyed (29% and 22%). The group believes however that these options are now more widely known.
Since 2010, the take-up of flexible working has risen by only 24%, yet it's believed that the data has possibly not caught up with the reality, with businesses implementing their own flexible working arrangements outside of the formal flexible request process. The flexible request government scheme of 2010 allows employees to put in one flexible working request a year after 26 weeks of employment. Lisa Champion shared a success story from within her organisation 'Brandwatch' – the software engineering section of the business had seen an increase in applications to adverts after adding that flexible working was an option.
In response to whether flexible working is offered from day one or at recruitment/interview stage, the survey revealed a mixed response, with it being offered in more cases on day one as opposed to within the recruitment advertising.
Within attendees, in response to the question, 'Do most staff seek flexible working requests through the formal channels (i.e., via a flexible working request), the majority fed back that if it was for a significant change in hours/days then the formal route is followed, whereas if the request is a small tweak this is generally through the line manager.
SOME INTERESTING STATISTICS (Source: Timewise Survey):
87% of all full-time employees either work flexibly already or want to
58% are offered flexible working, but still 24% don't make use of it
70% say an organisation offering flexible working is more attractive to them
GROUP DISCUSSIONS
Attendees are split into 3 working groups to consider how flexible working practices may impact 3 stakeholder groups and develop corresponding solutions that could improve implementation: STAKEHOLDER GROUPS: A: Individual teams, B: HR, and C: interviewers/recruiters.
GROUP A: INDIVIDUAL TEAMS
MAIN IMPACTS:
Larger teams, for example client facing, are harder to convince/manage
SOLUTIONS:
Clear, well informed communication: a documented on-going plan of what each person needs to do each day/week/month, addressing issues as they happen
Influencing all departments at all levels and setting by example – ensuring line managers are flexibly working
Trial practices in smaller teams and showcase how well they work and then scale up
Treat on a case by case basis and keep the dialogue open
Highlight within the business that flexible working is for everyone – diverting the presumption that its simply for working parents
Find people of influence in senior positions that are flexibly working that can be used to set examples for the rest of the industry/business
Share the bottom line, profit improving stats that will influence the CEOS
Focus on output not hours
Respond to the fact that there are, on average, 5 generations in our workforces and Introduce cross generational mentoring or reverse mentoring
GROUP B: HR
MAIN IMPACTS:
Overall culture and office environment are compromised
Flexible options for all, vs: flexibility for individuals, vs part-time
Pros and cons of flexible working from day one vs 26 weeks
Managing all types of working practices that come from different needs
The emergence of the millennials not wanting 9-5
SOLUTIONS:
A way to manage different types of working hours is to use the formal working practice guidelines with own arrangements sitting around it
Find a way to encourage the government to re-look at the childcare voucher scheme as currently it works against creches financially
An introduction of a mandatory creche within companies of a certain size
Clear overall policy and communications, highlight the health and safety and wellbeing benefits
Mentors and buddying support
Championing success stories
GROUP C: INTERVIEWERS/RECRUITERS
MAIN IMPACTS:
Line Manager training is required
Lack of technology is a potential barrier
May have flexible leadership but the principles can get stuck in middle management
SOLUTIONS:
Flexible workers can be sourced from a wider talent pool as the commute time is less important
Be explicit within website/LinkedIn/Glassdoor about the flexible working culture of the business – making working flexibly a reality to potential employers not just lip service
Large Corporation Example: Aviva have recently introduced an equal maternity/paternity leave that will aid the generational shift of predominantly women taking leave.
Introduction of working parent lunches, giving both genders the option.
COLLABORATIVE DISCUSSION:
Attendees collaboratively discussed how best to obtain SEO/SMT buy-in and concluded with the main following outcomes:
Corporate CEOS are mainly influenced by the bottom line, so highlighting how a consistent flexible working solution can impact profit directly and how, if not implemented, it can significantly harm it will get their attention.
Positive PR: Celebrating flexible working business successes, especially those that have impacted the bottom line, and feeding them outwards and upwards should start to influence
By harnessing the positive effects of gender pay visibility and highlighting that businesses with good gender parity are more investible and competitive is a crucial right now.
Making it mandatory for managers who manage flexible working teams to be working flexibly themselves and leading by example is an important step to successful implementation.
Our second group will be based in Crawley and will be hosted by B&CE courtesy of Zoe Wright and chaired by Flexibility Matters and training partner Ursula Tavender of Mumbelievable
To date, we are looking forward to welcoming: B&CE, ASB Law, GDB, PVL, Welland Medical, Nestle, Reigate and Banstead Council, Canon, Thales, Quantum, Platinum and the Crawley Post with a number still to confirm
If you and your company would like to join us please do mail emma@flexmatters.co.uk. Spaces are limited.