16/07/19
Flexibility Matters Discussion Groups on Best Practice in Flexible Working – Crawley 4 July 2019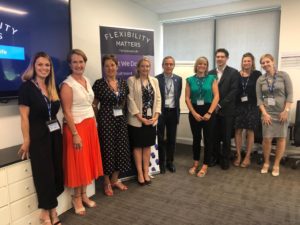 These are the members of the second Surrey/Sussex discussion group on best practice in Flexible Working. We discussed the implementation of flexible working from the perspective of the SMT to recruitment and everything in between including impact and benefits. The intent is to provide a ten point implementation guide of best practice which companies embarking on the flexible journey can use.
DISCUSSION ON BEST PRACTICE IN FLEXIBLE WORKING – CRAWLEY – 4th JULY 2019
SUMMARY OF DISCUSSIONS
MAIN OBJECTIVE
To reveal key points and peer learnings around the challenges and benefits of flexible working implementation in order to develop a 10-point flexible working implementation plan and best practice guidelines.
INTRODUCTION
All attendees (see list attached) have experience within their varying size organisations of flexible working and/or recruiting for flexible working. All recognise the benefits and are very passionate about them, but, at the same time are aware of the challenges that are affecting full take-up within all departments across their businesses.
OUR SURVEY SAYS
Survey results from the Crawley and surrounding based business attendees of the roundtable revealed the following points of discussion, summarised below.
86% surveyed offered flexible working options to their employees in varying forms.
Part-Time, Flexible Hours, Flexible Full-Time, Flexible Part-Time, & Working from Home, are the options offered by the majority surveyed and this trend is mirrored within national statistics sourced from Timewise, the CIPD Flexible Working Megatrends report and ONS.
Core Hours, Compressed Hours and Job Shares are options that are offered the least by those surveyed (respectively: 17%, 17% and 33%). The group believes, however, that these options are now more widely known.
In response to whether flexible working is offered at recruitment/interview stage, the survey revealed an 85% YES, with it being offered in slightly more cases at interview stage – as an option for the role – as opposed to within the recruitment advertising (71% YES).
FOR THE FULL SURVEY RESULTS – SEE ATTACHED.
SOME INTERESTING STATISTICS (Source: Timewise Survey):
87% of all full-time employees either work flexibly already or want to
70% say an organisation offering flexible working is more attractive to them.
88% of employees based in the south would prefer to start and finish later
PAIRED DISCUSSIONS
Attendees were split into pairs to consider how flexible working can best work and the main requirements for successful implementation within the following three different business areas;
1: TEAMS
2: HR
3: NEW STARTERS/INTERVIEWS/HIRING
1: TEAMS
REQUIREMENTS FOR SUCCESSFUL IMPLEMENTATION:
Positioning of strong managers who are comfortable to have difficult conversations. In many industries, employees are promoted to management as a result of their expertise in their trade (engineering for example), and not their team management skills.
Managers to be supported with the tools to accurately measure output (not hours), to be able to implement a qualifying work pattern for individuals within their teams.
Training for managers to be able to apply appropriate deliverables to different work patterns – setting reasonable and flexible targets that can be achieved within a certain number of hours.
A shifted mindset that whole teams can rally together to generate output rather than individuals. The development of a team charter of where and when they work – working to their individual strengths within the hours they are most efficient.
An investment in tech (over office space) to enable remote working (laptops are cheaper than buildings). It was noted that some industries may find this a challenge due to extra security needed to make this work – often investing in the latest tech for their clients, and not applying the same investment to staff members.
Transparency and setting expectations are key, as well as keeping the dialogue consistently open with a willingness to amend.
A facility for team members working outside of core business hours that enables them to schedule correspondence to land within the core business hours.
A mandatory requirement for managers of flexible working teams to work flexibly themselves.
2: HR
REQUIREMENTS FOR SUCCESSFUL IMPLEMENTATION:
At interview stage, as standard, find out what the individual's ideal work pattern would be, considering what is reasonable based on the demands of role.
Have a company policy in place that not only guides on the process of implementing flexible working but also guides on how to manage it once in place.
Have a Flexible Working policy that acts as a guideline, allowing flexibility within it to cater for individuals.
When a flexible work pattern request is put through by a new starter/work returner, it needs to consider the impact it will have on the rest of the team and business. The form will encourage the request to consider a solution to any challenges that they see which will then lead to a further collaborative discussion.
Shift responsibility and empowerment from HR to team managers when processing flexible working requests as they know their teams best.
Challenging individuals with unrealistic expectations need to be managed early on and introduced to an open conversation on wider impacts.
Clear overall policy and communications, highlighting the health and wellbeing benefits.
Shift mindset away from an expectation that everyone will abuse flexible working to everyone will respect flexible working.
Exit interviews as standard to enable complete transparency.
3: NEW STARTERS/INTERVIEWS/HIRING
REQUIREMENTS FOR SUCCESSFUL IMPLEMENTATION:
Induction training programmes to consider flexible workers. For example, a thorough introduction of the company culture up-front, as this may be a challenge for part-time workers to pick-up as quickly as full-time workers.
Clarifying the expectations of the role, with deliverables matching the flexible work pattern. For example, if a job pattern is part-time, the job expectations and deliverables need to adapt to represent the hours.
Hire for skills and attitude over qualifications and industry experience.
Be transparent on website, promotional material and role advertisements about the company flexible working policy, maternity and parental leave. Be loud and proud about the culture and benefits attached to attract more candidates. Shift mindset away from risk-averse
Train managers to be able to discuss flexibility at interview stage in the best way for the business and the individual.
A role should be advertised as flexible, not become flexible once a candidate has proved their worth.
COLLABORATIVE DISCUSSION:
Attendees collaboratively discussed how best to obtain C-SUITE/SMT buy-in and concluded with the main following outcomes:
The C-SUITE team may advocate flexible working, but they need to also model it, making it a reality to staff members on all levels of the business, not just lip service.
A business may have flexible leadership, but the principles can get stuck in middle management, so again making sure the modelling filters down and training is provided for them to be on board is essential.
Senior managers need to want flex for themselves for other staff members to trust that it is a legitimate requirement for them too. This is especially true for men.
The interesting statistic that 63% of prospective employees are checking gender pay before applying for roles is likely to have an impact on senior management, as they are mainly influenced by the bottom line.
Highlighting that, due to it being very easy now to be self-employed, not offering flexibility into roles means the talent pool will shrink.
Implement a small-scale trial with a senior manager role. Make it, for example, a job-share and then case study it, analyse it and communicate its outcome internally.
Implement 6-month trials in pockets of the organisation and measure levels of productivity, and satisfaction at regular flag points.
A major mindset shift is required from: basing a salary on hours, to basing a salary on output.
Take on a strategic approach to communication: Celebrating flexible working successes, especially those that have impacted the bottom line, and feed them outwards, downwards and upwards.
Attempt to eradicate pre-conceived ideas of what flexible working is by owning it.
"The key to not infantise the workplace is to be reasonable adults" Rachel Brazier, Head of HR, ABS Law
"It's important to lead flexible working practices from the top and filter them down. If senior managers want it for themselves, then it will work". Mark Sweetinburgh, Director of Sweetinburgh and Windsor
"If you want to hold on to talent, you have to be an organisation that works for your employees". Jess Hornsby, HR and Change Management Business Psychologist, Thales
"Having a strong shared purpose, vision and values is crucial in ensuring flexible working is seen as a positive part of organisational culture". Zoe Wright, Group Director of People, B&CE
"The key to making this work lies in supporting managers to overcome barriers in their trust and communication. It's about them having different conversations and working collaboratively with their teams to design roles that work for the business and much as they do for their people". Ursula Tavender, Director of Mumbelievable